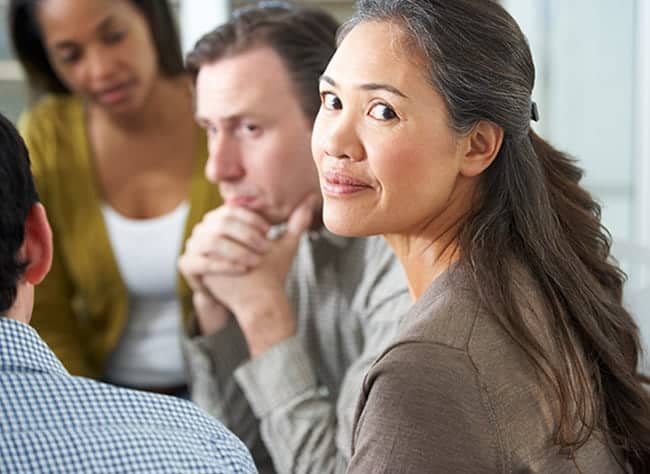 Realization Center, Inc is a unique comprehensive full-service, chemical dependency outpatient treatment center, located in both Manhattan at 19 Union Square West, and in Brooklyn at175 Remsen Street. Realization Center is privately owned and operated by its founders Marilyn J. White and Dianne Schwartz.
The Center, one of the oldest and largest in New York City, has offered all levels of care from partial hospitalization, intensive outpatient treatment to individualized group therapy for the past 34 years. Licensed by the New York Office of Alcoholism and Substance Abuse Services, we serve a wide range of clients including impaired professionals, adult and adolescent substance abusers, LGBTQ individuals as well as dually diagnosed and HIV positive clients. Realization Center is also approved to treat mental health issues for people with a past history of substance use disorders but who are not currently struggling with an active addiction.
Treatment Services
Realization Center provides all clients with a unique education series that helps clients understand the changes they need to make in order to recover from addiction regain their health and live in their potential.  We offer specialized treatment for men's, women's, and adolescent's issues, co-dependency, gambling, sexual compulsivity, food addiction/eating disorders as well as numerous mental health issues such  as depression, anxiety, posttraumatic stress, sexual trauma, family of origin issues, domestic violence, anger and stress management, school or job difficulties, family conflict, parenting difficulties and relationship problem as they relate to substance abuse.
In addition to various forms of therapy, we also provide medication assisted treatment (MAT) using FDA approved Buprenorphine and Vivitrol, as well as other medications that help block the cravings and urges for alcohol and opiates.
With over 85 groups a week at both facilities, Realization Centers offers unparalleled flexibility: Monday – Friday 8:30am – 9:00pm and Saturday 8:30am – 2:00pm, a 24 hours hotline, crisis intervention, onsite 12 step meetings and programs for families and loved ones. A multi-disciplinary team of professionals including Psychiatrists, Psychiatric Nurse Practitioners, credentialed Alcohol and Substance Abuse Counselors, LCSW's. LMHC's, assure quality care in a safe, supportive environment.
Realization Center accepts insurance coverage through most major medical and union health-care plans.  In addition, Medicaid and Medicare are accepted. Sliding fee scale is also available.
WHERE IT ALL BEGAN
MARILYN J. WHITE
Center's Founder and CEO, Founded Realization Center in 1984 to help both the underserved and the inadequately served addicted population at large.
More on Marilyn
DIANNE SCHWARTZ
Chief Financial Officer and Director of Food Addiction Treatment Program, Dianne joined forces with Marilyn White in 1988 to actualize the development and expansion of Realization Center.
More on Dianne
Staff
MARIA N. ALIKAKOS, DO
Director of Psychiatric Services